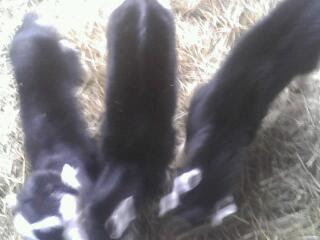 homemade chevre cheesecake
Recently, I've learned to make cheese, using goats milk. So far, chevre, mozzarella and ricotta cheese is what I have made. From the Chevre cheese came my cheese cake, the picture is my third cake, a classic cherry cheese cake. This cake, was the best by far, was so delicious. Pressing the graham crackers on the bottom of the pan and cherries on top. Unknowingly, using the suggestion of one recipe, see below, the cake never fell the way cheese cakes do. Also, every chevre cheese cake recipe on the internet, that I came across, called for six eggs seperated, geeze. Thinking, why can't the recipe be made like the simple classic cheese cake?
Preheat oven to 450 degrees
GRAHAM CRACKER CRUST
1package graham crackers crumbled
½ cup butter melted (1 stick)
Blend ingrediants, press on bottom of springform pan and bake for 10 minutes.
FILLING
16 oz of chevre cheese
1 tsp sea salt or cheese salt if using you own chevre cheese
1 tsp pure vanilla extract
3 eggs
Beat cheese until creamy, add sugar and vanilla, beat together, add one egg at a time.

Bake cake at 450 degrees for 10 minutes, turn oven down to 250 degrees for 35-40 minutes.
Since coming to Alabama, unable to find frozen ravoli in the freezer section at the supermarkets, not even Walmart, I decided to use the fresh ricotta cheese created with the whey left over from making mozerrella and chevre cheese. They are awfully pretty aren't they? Tonight will be the taste test, using my goat milk mozzarella cheese to cover the top.
Since my previous post, back in September, there has been so many changes. Learning and helping to raise chickens, goats and hogs has been interesting. The simple, quite farm life has been refreshing, although my life did take a turn in events quite quickly, which I'll mention shortly.
mama goat giving birth
Around the week of Thanksgiving, the female goats starting having babies. The weekend following Thanksgiving, all at once, one goat was cleaning off her newborn baby, another one was in labor, while a third had a baby hanging from her vaginal opening. Being the first time seeing a mother goat cleaning up the after birth, blood and sack from the baby made me gag (they eat it).
mama goat cleaning her baby


mama goat cleaning her baby
A few weeks later, the Sheriff asked me to come over to his bed ridden mother's house, she needed to be washed and sheets changed twice a week. It didn't seem so bad, easy enough, although the Sheriff's mother is overweight. Not long after, the Sheriff called us one Saturday night at eleven, they needed somebody to sit with his mother while his father was being examined for chest pains, Barry and I have been here for three months now.
The Sheriff's mother needed round the clock care, having, life long, mental issues made the task more trying. After two weeks Barry woke me, I swas moaning in my sleep constantly. One night, as clear as day, I thought the Sheriff's mother called me. Getting up to see what she needed, she just said, "you must have been dreaming dear".
The Sheriff's father needed open heart surgery, because of his mother's condition. The Sheriff"s family tried keeping his father in the hospital, money ran out so they were able to keep his father until he was able to at least walk around a bit. After being home for a few weeks, the Sheriff's mother became to difficult, she is now in a nursing home getting the appropriate care.
Over the following weeks, two goats had babies, one mama goat is sick, she had these three. The second won't nurse, although she did clean the baby after giving birth. The mama in the picture above adopted the baby that was neglected, just after her water broke. Something like this is a rarity. Most mama goats will have nothing to do with a baby that isn't her own.
Barry has been bottle feeding the four as you can see below.
negleted by his mother
Barry bottle feeding baby ( no it's not soda)